Secure, easy and systematic
archiving for your medium format slides.
Journal 67 – labeling
Self-adhesive yellow fabric labels are
supplied with the cassettes. Labels adhere
to the cassette's tape binding.
Suitable for typewriters and
handwritten lettering.
Additional labels are available in
the following units:

Labels:

Color

Quantity
Ett

yellow

5 sheets (8 labels per sheet)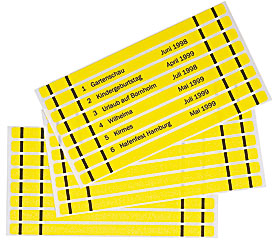 Journal 24 slide cassette
Journal 24 S slide cassette
Journal 24 labeling
Journal-Box JB
AV Box

---


Journal 12 slide cassette
Journal 12 labeling
Journal-Box JB 12

---

Journal 67 slide cassette
Journal 67 labeling
Journal-Box JB 67

---


Report 24 slide archive frames

---
Price list:
Ask your local representive.
You can find a list here.